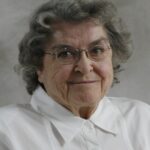 Remembering Sister Helen Rohlik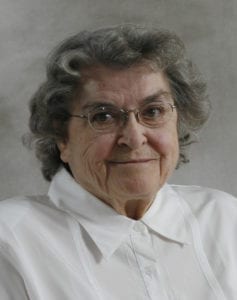 Sister Helen Rohlik, (formerly known as Sister Phylis), 88, a Franciscan Sister of the Congregation of Our Lady of Lourdes, Rochester, MN, died at Assisi Heights on Thursday, April 4, 2019.
Helen Corona Rohlik was born January 12, 1931 in Seaforth, Minnesota, to Anthony and Mary Frances (Donohue) Rohlik. She entered the Sisters of St. Francis in 1950 from Saint Mary's Parish in Seaforth. Sister Helen made first vows in 1953 and perpetual vows in 1956. She received a Bachelor's Degree in Elementary Education and Latin in 1960 from the College of St. Teresa, Winona, Minnesota, a Master's Degree in Classical Languages from Notre Dame University in 1969, and completed Nursing Assistant training at Rochester Technical School in 1984.
Sister Helen served as a primary teacher for eleven years at Catholic Schools in Southern Minnesota: Owatonna, Austin, Wilmont and Winona, after which she taught seven years in secondary education at Sacred Heart School, Norfolk, Nebraska, and Lourdes High School, Rochester. Sister Helen served as office staff at Saint Marys Hospital, Rochester, and at Saint Anne Hospice, Winona, before moving into parish ministry at St. Casimir and St. Mary's Parishes in St. Paul, Minnesota. On completing Nursing Assistant training, she served her Sisters at Assisi Heights for five years before providing child care in local homes for eleven years. Following retirement, Sister Helen remained active for several years in various volunteer activities at Mayo Clinic, Rochester.
Sister Helen is survived by her Franciscan Congregation with whom she shared life for sixty-nine years, a brother Steven Rohlik of Owatonna, Minnesota, a sister-in-law, Ida Mae Rohlik of Wabasso, Minnesota and several nieces, nephews and cousins. She was preceded in death by her parents, three brothers: Roy, Gerald and David Rohlik, and three sisters: Rose Marie Wacklarowicz, Ida Mae Regnier and Ruth Ann Franta.
An Evening Prayer Vigil with Sharing of Memories will be at 4:00 p.m. Wednesday, April 10, in the Chapel of Our Lady of Lourdes at Assisi Heights. The Funeral Mass will be Thursday, April 11 at 11:00 o'clock in Lourdes Chapel. Visitation one hour prior. Burial will be at St. Mary's Cemetery, Seaforth, Minnesota.
Memorials are suggested to the Sisters of St. Francis, Office of Mission Advancement, Assisi Heights, 1001 14th St. NW, Suite 100 Rochester, MN 55901.