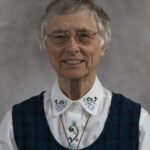 Remembering Sister Evelyn Thillen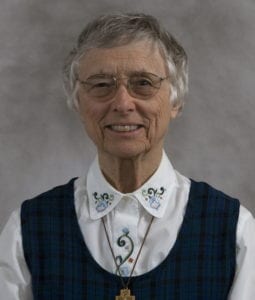 Sister Evelyn Thillen, OSF (formerly known as Sister Rayner), 92, a Franciscan Sister of the Congregation of Our Lady of Lourdes, Rochester, MN, died at Assisi Heights on Monday, March 18, 2019.  
Evelyn Appolonia Thillen was born January 15, 1927 in Caledonia, Minnesota, to John and Appolonia (Welscher) Thillen.  She entered the Sisters of St. Francis in 1947 from Saint Peter Parish in Caledonia. Sister Evelyn made first vows in 1949 and perpetual vows in 1952.  She received a Bachelor's Degree in Elementary Education from the College of St. Teresa, Winona, Minnesota,  in 1963.
Sister Evelyn was a primary teacher for forty-one years.  She taught in several Catholic Schools in the Diocese of Winona: St. Wenceslaus, Jackson; Our Lady of Mount Carmel, Easton; Holy Trinity, Rollingstone; St. Gabriel, Fulda; St. Francis, Rochester, and St. Mary, Owatonna. She also taught at St. Peter School, Delano, Minnesota; St. Andrew the Apostle, Silver Spring, Maryland and St. Raphael School, Springfield, Minnesota. From 1991-2002, Sister Evelyn resided at Tau Center, Winona, Minnesota where she served as Sacristan, Receptionist and Book Store Manager.  She retired to Assisi Heights in 2002.
Sister Evelyn is survived by her Franciscan Congregation with whom she shared life for seventy-two years and several in-laws, nieces and nephews. She was preceded in death by her parents, brothers Valery and John Thillen and four sisters: Laurayne Vick, Melba Privet, Carol Scheiber, Fern Richards and Esther Felton.
An Evening Prayer Vigil with Sharing of Memories will be at 4:00 p.m. Sunday, March 24, in the Chapel of Our Lady of Lourdes at Assisi Heights.  The Funeral Mass will be Monday, March 25 11:00 o'clock in Lourdes Chapel.  Visitation one hour prior. Burial will be at Calvary Cemetery, Rochester.
Memorials are suggested to the Sisters of St. Francis, Office of Mission Advancement, Assisi Heights, 1001 14th St. NW, Suite 100 Rochester, MN  55901.