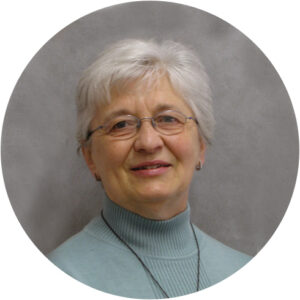 Is this the time in your life when you feel challenged to a passage, something new, a change? Are you being challenged to be all you can be? Is the unique "seed" planted in you at the beginning of your life growing, moving, developing, changing?
Consider investigating a relationship with the Sisters of Saint Francis.
Support and mentoring are gifts we can offer from rich experiences in every type of service and ministry, and in the challenge of growing in a spiritual life.
If you have any questions about:
Rochester Franciscans
Becoming a Franciscan Sister
Becoming a Cojourner
Click on the button below to send an email to Sister Ann Redig.
Become a Rochester Franciscan Sister
What kind of woman becomes a Franciscan Sister? She comes from a variety of backgrounds and career paths. This woman:
is responsive to the needs of others.
has the ability to invite and enable others to use their gifts.
resonates with the Franciscan Charism (way of life).
has a prayerful spirit and a love for the Gospel.
is attracted to simple living.
has the desire to live a life in a community of Sisters.
demonstrates care and concern for all God's people.
are in good physical and psychological health.
have a passion for prayer as a foundation to your actions.
are committed to be a compassionate presence for peace in our world and strive for justice and reverence for all of creation.
have the enthusiasm to respond to God wholeheartedly within the community.
desire to follow Jesus in the spirit of Saint Francis, Saint Clare and Mother Alfred Moes.
For more information on the steps to become a Franciscan Sister, please click to contact Sister Ann Redig, or call: 888-277-4741 (toll free) or 507-282-7441.
Become a Sister
For more information on the steps to become a Franciscan Sister, please contact Sister Ann Redig: 888-277-4741 (toll free) or 507-282-7441.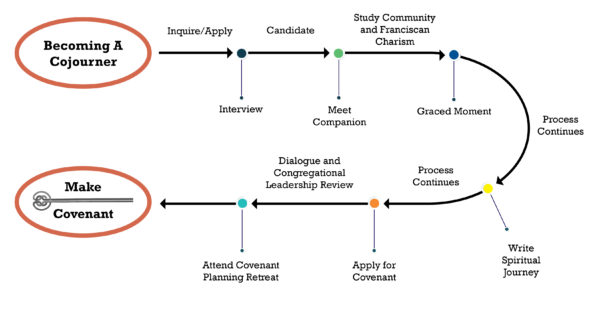 "Cojourning has been one of my most important lifetime journeys. The strong Franciscan women have guided me with their compassion, wisdom and rich lifetime experiences. The Franciscans have led me to pursue opportunities of grace, spiritual endeavors and personal growth. I have been given the gift of experiencing the holiness of life and the deep connections with community, faith, prayer and service."
– Cojourner Melinda Holtegaard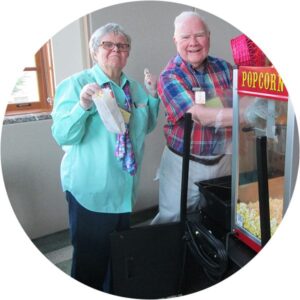 Cojourning describes a unique relationship between individuals and the Sisters of Saint Francis who seek connection with each other for spiritual growth: those with a desire to walk together exploring their lives, mission and ministry in the spirit of St. Francis and Clare of Assisi and our foundress, Mother Alfred Moes.
Why would someone want to consider Cojourning?
"It is an opportunity for a lay person to grow spiritually and form relationships with the Rochester Franciscans." — Marty Cormack, Cojourner
How do Cojourners participate with the Rochester Franciscans?
We attend Masses, enrichment and social events when possible.
We serve as committee members.
We volunteer with the Sisters in areas of shared interest.
We volunteer at Assisi Heights.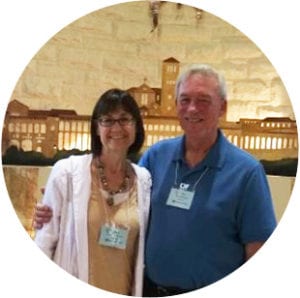 Who are Cojourners?
Adult, men and women, single and married, vowed and ordained, of various faith traditions and walks of life. They share common values such as belief in God, reverence for life, concern for the poor, care of the earth, and commitment to justice and peace.
You need not be a Catholic; men and women of any faith tradition, nationality or creed may become a Cojourner.
How do you become a Cojourner?
Make an inquiry
Be interviewed
Participate in an orientation process with a contact Sister or Cojourner (usually one to two years)
Celebrate a Cojourning Covenant
Participate in a Franciscan Life Group with Sisters and Cojourners
What are the obligations?
There are no stated financial or legal obligations on the part of the Cojourner or the Congregation.
When one has undertaken the process of study and discernment and is ready, a covenant is made between the Cojourner and the Congregation
For me, Cojourning means three things in particular: Mission: Helping to focus my God-given rights and talents in the spirit and manner of St. Francis and St. Clare as re-framed by contemporary Franciscans. Community: Sharing life's joys, sorrows and possibilities with others who share similar faith values and perspectives; we strengthen, encourage and learn from each other. Spiritual Formation: We travel over paths, and when they merge or intersect, we share life and experience Christ with one another and we grow into that Christ-likeness in which we were created, and toward which we are being called. We join that great Cloud of Witnesses in new, joyful and loving ways.
It is such an uplifting experience to be affiliated as a Cojourner with the amazing women who are the Sisters of Saint Francis. Cojourning keeps alive the zeal of Franciscan spirituality in my soul. And, at the same time, it is a humbling experience… Cojourning isn't about doing something new or different or about adding yet another activity or obligation to our lives that are already too full. Cojourning is about living Franciscan spirituality in everything I do.
Since becoming a Rochester Franciscan Cojourner, I have come to understand the importance of living a simple life rooted in the Gospel. The Sisters of Saint Francis live by example. I have learned to live my life with a joyful spirit, respect all creatures great and small and to serve God with gratitude and love.
Become a Cojourner
For more information on the steps to become a Franciscan Cojourner, contact Sister Ann Redig at 888-277-4741 or 507-282-7441.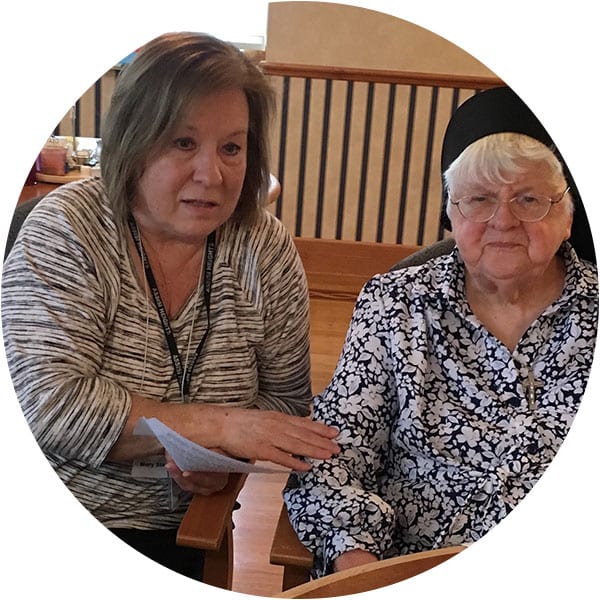 Would you like to volunteer at Assisi Heights? We have opportunities to fit most schedules. Activities such as art classes, music sessions, art appreciation, registering participants for Spirituality Center programs, movies and more. Weekly or monthly celebration events are an option. Volunteer on your own or with a friend.
Orientation provided.
Performers, do you have a talent to share? Music, dance, magic, bird calls or another talent you would like to share. We welcome your group's dress rehearsal here.
Volunteer
For more information on how to become a volunteer, contact Sister Sue Reif at 507-282-7441.
PLEASE NOTE: Due to COVID-19, Assisi Heights is not accepting any new volunteers at this time. Please check back again in the late spring or early summer. Thank you very much! Sister Sue Reif, Volunteer Coordinator.