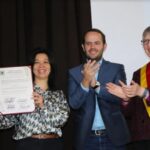 April 2019 News Update
Colegio Santa Francisca Romana Receives Highest Honor from Mayor's Council of Bogotá
The following is a translation of the article which appeared in El Tiempo, the leading city/regional newspaper for the capital city of Bogotá, Colombia on Saturday, March 23, 2019:
Pachas recognized for creating women leaders – On Saturday, March 16th, the Mayor's Council of Bogotá awarded to the Colegio Santa Francisca Romana the highest honor bestowed on civilians: The José Acevedo y Gómez Civil Order of Merit at the level of "Great Cross", for its long history in the formation of women who are leaders of social transformation.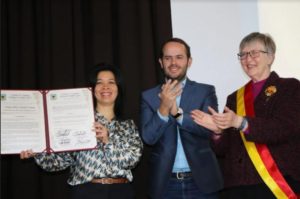 Liliana Arango proudly shows the Citation as City Council member Jose David Castellano and Sister Valerie Usher affirm their approval.
"We are very proud of the education that we offer. With this special recognition we feel that we are truly contributing to both the city and the country," affirmed Liliana Arango, principal of this educational institution. From the primary grades on, the Pachas (as the students of the Colegio are known) experience a formation based on such aspects as: critical thinking, a social commitment, leadership focused on service and innovation — ingredients that go hand-in-hand with the development of women who are empowered and who feel secure and confident of themselves. The basic idea is to make the most of their own creativity as they create projects that impact the whole society.
Sister Kay Wagner was interviewed for this TV story: Disabilities don't keep this Rochester group from singing their hearts out – Resounding Voices allows people to not be limited by their disability and to have the chance to live full lives. Watch here: https://kttc.com/news/2019/03/24/disabilities-dont-keep-this-rochester-group-from-singing-their-hearts-out/
Sister Marilyn Geiger was appointed to the Diocese of Winona-Rochester Pastoral Council, effective January 28, 2019.