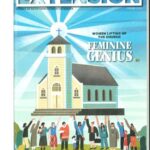 June 2019 News Update
Sister Ramona Miller attended the UISG meeting in Rome, and is shown in a photo collage on page 3 of the LCWR June newsletter, which you can view at:
https://lcwr.org/sites/default/files/publications/files/lcwr_newsletter_-june_2019.pdf
She also informed us that the Earth Day tree planting experience at Assisi Heights has gone global! That's right, our photos were sent in advance of the UISG meeting in Rome in May. The theme of the conference was, "Sowing Hope for the Planet," and our images appear in a video presentation starting around the 13:35 mark, which is now available for all to see at:
Sister Loretta Gerk was interviewed to share memories of a former student, Kendrick Castillo, who lost his life in a high school shooting that took place on May 7 in Highlands Ranch, Colorado. The article, 'No Greater Love,' appeared in the May 9 issue of Catholic News Agency and may be viewed here:
https://www.catholicnewsagency.com/news/no-greater-love—-denver-catholics-remember-kendrick-castillo-who-died-in-stem-school-shooting-20922
Cokie Roberts of NPR and ABC News was in Minnesota in May to speak about the ways we can contribute to making America – and the world – a better place spoke highly of religious leaders building the country. She spoke highly of women religious leaders building the country and stated that Mayo Clinic would not be here without the Sisters of St. Francis.
Listen to the broadcast: https://www.mprnews.org/story/2019/05/13/cokie_roberts. Click on "LISTEN" under the photo.
Sister Joan Brown was the author of the June 7th meditation from the Center for Action and Contemplation. Sister Katarina Schuth was one of about a dozen women recognized in the Spring 2019 issue of Catholic Extension magazine, with the focus on "Women Lifting Up the Church: Feminine Genius." www.catholicextension.org