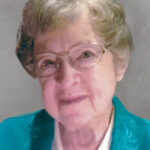 In Memory of Sister Ramona Kruse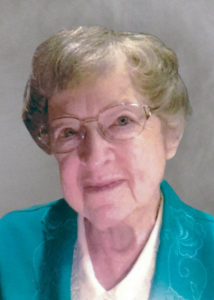 Sister Ramona Kruse          
Sister Ramona Kruse, 96, a Franciscan Sister of the Congregation of Our Lady of Lourdes, Rochester, Minnesota, died at Assisi Heights on October 12, 2021.
Jeanette Ione Kruse was born August 4, 1925, in St. Clair, MN, to Raymond and Elsie (Hollmichel) Kruse. She entered the Sisters of St. Francis in 1944, received the name of Sister Mary Ramona, and made perpetual vows in 1949.
Sister Ramona had a passion for learning and perfected her skills in teaching and writing. She completed a B. S. degree in elementary education at the College of St. Teresa, Winona, MN, in 1960. Sister Ramona completed an M. S. degree in diagnosis/remediation of reading problems at Mankato State University, Mankato, MN, in 1971, qualifying her as a Reading Consultant. She also completed studies as a Specialist in Curriculum and Instruction at Mankato State University in 1974.
From 1946-1968, Sister Ramona taught high school, junior high, elementary, kindergarten, and pre-school in Minnesota, Nebraska, and Maryland. From 1968-1972, she was a Title 1 supervisor and teacher of reading in elementary and secondary schools in Sleepy Eye, MN.
From 1972-1989, Sister Ramona was an assistant professor in the English and Education departments at the College of St. Teresa. She was Director of Learning Lab and the College Archives, Foreign Student Advisor and program facilitator, member of several campus committees, and continuing formal education in Archival Administration, ESL Communication, and Early Childhood Methods for Teachers. Additionally, Sister Ramona was a writer of published books and manuals for teachers, young adults, and children. From 1972-1982, she was a presenter of several scholarly papers state-wide and internationally. In the 1980s, Sister Ramona taught at Immaculate Heart College in Kagoshima, Japan.
Sister Ramona moved to Rochester in 1990, where she was the Director of College of St. Teresa Academic Records and Philatelist for the congregation. She continued devoting time to poetry writing, with publications of her poems across the USA. She received numerous honors, including a Certificate for Outstanding Poetry from Fine Arts Press, 1989. Her last published poem was in 2013. In her own words, "I see poetry as food for the soul, relaxing therapy for the body and a unique exercise for the mind."
Survivors of Sister Ramona include her Franciscan Sisters, with whom she shared life for seventy-seven years; one brother, David (Rose) Kruse; four sisters, Mary Juliar, Catherine Harbour, Helen (Thomas) Laitinen, and Ann (James) Shimota; one sister-in-law, Jeannie Kruse; and many nieces and nephews. She was preceded in death by her parents; two brothers, Dennis and James Kruse; and three sisters, Geraldine Kruse, Rita Gaffer, and Evon Kruse.
A private Funeral Liturgy will be at Assisi Heights at 11:00 a.m. on October 20, 2021. The burial of her cremains will be at Calvary Cemetery. View the funeral via Livestream: https://us02web.zoom.us/j/85126896052.
Memorials are suggested to the Sisters of St. Francis, Office of Mission Advancement, Assisi Heights, 1001 14th St. NW, Rochester, MN 55901.