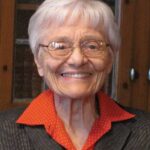 In Memory of Sister Lorraine Landkammer
Sister Lorraine Landkammer   
Sister Lorraine Landkammer, 97, a Franciscan Sister of the Congregation of Our Lady of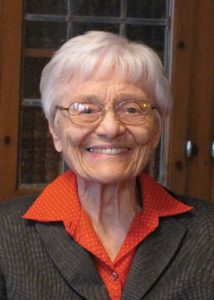 Lourdes, Rochester, Minnesota, died at Assisi Heights on November 8, 2021.
Lorraine Marie Landkammer was born April 21, 1924, in Springfield, Minnesota, to Frank and Theresa (Matter) Landkammer. She entered the Sisters of St. Francis in 1944, received the name of Sister Gratia, and made perpetual vows in 1950. She earned a B.S.E. degree in Elementary Education in 1957, and a B.A. degree in History and Spanish in 1963, from the College of Saint Teresa, Winona, Minnesota. Further studies included holistic training at the Spiritual Center in Little Falls, Minnesota, in 1986, and certification as a Natural Therapeutic Specialist at the New Mexico School of Natural Therapeutics, in 1987.
In 1947, Sister Lorraine began her extensive elementary teaching ministry at parochial schools in Chicago, Illinois; Adams, Winona, Sleepy Eye,  and Springfield, Minnesota, and Silver Springs, Maryland. Once trained in Spanish, in 1963, she moved to Bogotá, Colombia, and served for seven years as a teacher at Colegio Santa Francisca Romana and then as the Superior of a convent in San Carlos. In 1973, Sister Lorraine returned to Springfield, Minnesota, to teach, do parish ministry, and be near her family for three years.
From 1986-1987, Sister Lorraine was trained in holistic healing and utilized these skills for the next 16 years. She moved to New Mexico and transformed the lives of many people as a Natural Therapeutic Specialist. Sister Lorraine was also a member of committees for retirees, giving spiritual direction and holistic healing. She retired to Assisi Heights in 2003.
Survivors of Sister Lorraine include her Franciscan Sisters with whom she shared life for 77 years; one sister-in-law, Helen Landkammer; and numerous nieces and nephews. She was preceded in death by her parents and two brothers, Wilfred and Robert Landkammer; one sister, Helen Heiderscheidt; one brother-in-law, Nicholas Heiderscheidt; and one sister-in-law, Emilie Landkammer.
A private Funeral Liturgy will be held at Assisi Heights at 11:00 a.m., November 17, 2021. The burial of her cremains will be at Calvary Cemetery. To view the funeral via Livestream on November 17 at 11:00 a.m, click here: https://us02web.zoom.us/j/85126896052.
Memorials are suggested to the Sisters of St. Francis, Office of Mission Advancement, Assisi Heights, 1001 14th St. NW, Rochester, MN 55901.