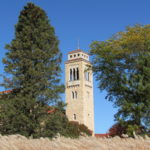 November 2021 News Update
Cojourner Bruce Rohde is the pianist for the group "Resounding Voices." To view a segment featured on KTTC-TV, click on this link: https://kttc.com/2021/10/12/people-who-care-resounding-voices/#.YWbWRp6AYwg.mailto
Sister Tierney Trueman is one of five panelists participating in "The Joy Speaker Series" — a four-part series headlining influential guest speakers with a focus on JOY. The intention is to inspire and empower all Mayo Clinic staff to discover what joy means for themselves and others. The first presentation was held on November 9th.
Gifts of her Spirit: poems by Sister Mary Brigh Cassidy – The reprint of this book was edited by Sister Lauren Weinandt and Cojourner Jane Campion. This book is a poignant collection of poems written by Sister Mary Brigh Cassidy, a dedicated Franciscan sister and the former hospital administrator of Saint Marys Hospital in Rochester, Minnesota. According to a press release from Mayo Clinic:
"The book is a work that celebrates the seasons of life and brings insight—and a smile—to readers everywhere.
"During her fifty-five-year career at Saint Marys Hospital, Sister Mary Brigh Cassidy remained a common person with uncommon capabilities. Even though she worked tirelessly as the hospital administrator, caring for patients and leading the hospital through unparalleled growth, she found time at the end of her busy days to write poetry and reflect on spirituality, nature, and a life dedicated to service.
"Composed between the years of 1928 and 1968, the poems in Gifts of Her Spirit paint a picture of life through the Great Depression, World War II, and post-war events. Her poetry often uses images from nature to capture the beauty and poignancy found in the seasons of the church and in the seasons of life—each with its own purpose, challenges, and rewards. Gifts of Her Spirit is a curation of approximately sixty of Cassidy's poems, all arranged according to the Liturgical Calendar of the Catholic Church."
Copies are available at the Mayo Clinic Gift Shops, as well as at the Assisi Heights Gift Shop. (Currently, the Assisi Heights Gift Shop is still closed to the public.)