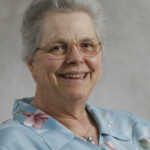 In Memory of Sister Kay Rundquist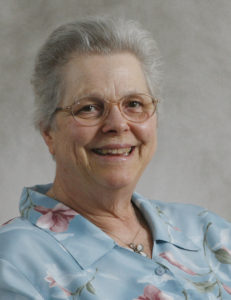 Sister Kay Rundquist                
Sister Kay Rundquist, 82, a Franciscan Sister of the Congregation of Our Lady of Lourdes, Rochester, Minnesota, died at Assisi Heights, on June 29, 2021.
Kathryn Falton Rundquist was born March 14, 1939, in Minneapolis, Minnesota, to Ralph and Gladys (Falton) Rundquist. She entered the Sisters of St. Francis in 1959, received the name of Sister Mary Pius, and made perpetual vows in 1964. In 1971, she completed her studies for a Bachelor of Arts Degree in Music Education at the College of Saint Teresa, Winona, Minnesota. In 1990, she completed a Master of Ministry Degree in Pastoral Ministry at Seattle University, Seattle, Washington. Further studies included training and certification in holistic studies, sports massage, neuromuscular therapy, Reiki, and she became a Master of Integrated Energy Therapy.
In 1961, Sister Kay began her elementary music teaching ministry at parochial schools in Austin, Tracy, Fulda, Easton, Rochester, and Winona, Minnesota. In 1971, she continued to use her talent as a gifted musician in parochial schools and parish ministry through singing, choral directing, teaching and playing the organ, piano, guitar, and string bass. She worked in Watertown, South Dakota, Colorado Springs, Colorado, and Austin, Mankato, and Anoka, Minnesota. Sister Kay was also a piano guild judge for the National Guild of Piano Teachers and served on the New Ulm Diocese Liturgy Committee. She was a passionate teacher and musician for 25 years.
In 1986, Sister Kay began a new journey of self-discovery that became her pastoral ministry in holistic healing for the next 29 years. Through Sister Kay's training, she developed a deep understanding of the human body, mind, and spirit. She transformed the lives of many people as a massage therapist and holistic body therapist. Sister Kay was a member of the Associated Bodywork & Massage Professionals and gave spiritual direction and holistic healing at the Spiritual Center in Little Falls, Minnesota, and numerous locations in the state. She retired to Assisi Heights in 2015.
Sister Kay is survived by her Franciscan Sisters with whom she shared life for sixty years; one sister-in-law, Kathy Rundquist; and nephews. She was preceded in death by her parents and one brother, James Rundquist.
A private Funeral Liturgy will be held at Assisi Heights at 10:00 a.m., July 8, 2021. Burial will be at Calvary Cemetery. To view the funeral via livestream at 10:00 a.m. on Thursday, July 8, please click on this link: https://us02web.zoom.us/j/82990987659
Memorials are suggested to the Sisters of St. Francis, Office of Mission Advancement, Assisi Heights, 1001 14th St. NW, Rochester, MN 55901.