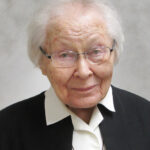 In Memory of Sister Marcan Freking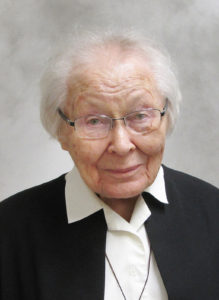 Sister Marcan Freking, OSF                 
Sister Marcan Freking, 96, a Franciscan Sister of the Congregation of Our Lady of Lourdes, Rochester, Minnesota, died at Assisi Heights, on June 23, 2021.
Bernadine Frances Freking was born October 9, 1924, in Heron Lake, Minnesota, to August and Rose (Oberbroeckling) Freking. She entered the Sisters of St. Francis in 1942, received the name of Sister Mary Marcan, and made perpetual vows in 1948. In 1957, she completed her studies for a Bachelor's Degree in Elementary Education at the College of Saint Teresa, Winona, Minnesota. In 1962, she completed a Master of Science Degree in Elementary Education Administration at Winona State University. Further studies included a sabbatical in 1994-1995 at the School of Theology, St. Meinrad, Indiana.
In 1945, Sister Marcan began her elementary teaching ministry at parochial schools in Austin, Winona, Glencoe, Albert Lea, and Sleepy Eye, Minnesota. She was the principal at St. Margaret Mary School, Golden Valley, and St. Gabriel School, Fulda, Minnesota. She was a compassionate educator for 26 years.
In 1971, Sister Marcan began her pastoral ministry for 36 years. She served in impoverished areas in Vanceburg and Grayson, Kentucky with the Glenmary Home Missioners, Cincinnati, Ohio, for 12 years. Her Franciscan heart was open to serve another Appalachian area at Holy Trinity Church in Morgantown, Kentucky for the next 11 years. Sister Marcan's pastoral work then continued at Mapleton, Minnesota; Sturgis, Kentucky; Whitesville, West Virginia; and Springfield, Missouri. She touched the lives of many people and retired to Assisi Heights in 2007.
Sister Marcan is survived by her Franciscan Sisters with whom she shared life for seventy-eight years; two sisters-in-law; and generations of (500) nieces and nephews. She was preceded in death by her parents; ten brothers, William, Joseph, Alois, Lawrence, Leo, August, George, Alfred, Edward, and Bishop Frederick Freking; eight sisters, Monica Bartosh, Clementine Berg, Mary Bauman, Rose Liepold, Clotilda Freking, Josephine Kreger, Margaret Henkels, and Anastasia Mathias; seven brothers-in-law; and six sisters-in-law.
A private Funeral Liturgy will be held at Assisi Heights at 10:00 a.m., July 1, 2021. Burial will be at Calvary Cemetery.
Memorials are suggested to the Sisters of St. Francis, Office of Mission Advancement, Assisi Heights, 1001 14th St. NW, Rochester, MN 55901.
To view the funeral via livestream at 10:00 a.m. on Thursday, July 1, please click on this link: https://us02web.zoom.us/j/89595264016
Note: You must have an account with Zoom. Important to set this up on your computer IN ADVANCE if you have not used Zoom before: CLICK HERE to view a video for instructions. Select the video: "Join a Meeting." You need to first download the software application on your computer before entering the link listed above for the funeral. All persons have to do this the first time you use Zoom on that computer. After that, you only need to sign in with your email.