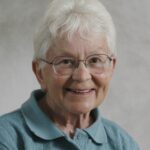 In Memory of Sister Ingrid Peterson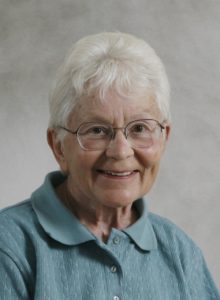 Sister Ingrid Peterson, a Franciscan Sister of the Congregation of Our Lady of Lourdes, Rochester, MN, died at Assisi Heights on June 28, 2020.
Janet Peterson was born July 2, 1935, in Grantsburg, Wisconsin, to Elmer and Mary Grant Peterson. She entered the Sisters of St. Francis in 1955 and made perpetual vows in 1961. Professional studies included a Bachelor's Degree in Elementary Education from the College of St. Teresa, Winona, MN, in 1963; a Master's Degree in Speech and Public Address from the University of Michigan, Ann Arbor, MI, in 1969; and a PhD in English: Medieval and Renaissance Literature from the University of Iowa, Iowa City, IA, in 1982.
Sister Ingrid was a primary and secondary education teacher for fourteen years. Upon completing further studies, she served as a college instructor in English: eleven years at the College of St. Teresa, Winona, MN., and one year at Quincy University, Quincy, Il., after which she was an independent Scholar in Residence at Quincy University. From 1992 to 2017, she taught and shared her Franciscan Scholarship as Adjunct Professor at the Franciscan Institute, St. Bonaventure University, New York (1992+); Franciscan Studies staff at Tau Center, Winona (1992-1998); Adjunct Professor, St. Francis College, Altoona, PA (1995+); serving as a Franciscan Scholar and parish volunteer while in residence in Minong, WI (1998-2013); and Adjunct Professor at the Franciscan International Study Centre, Canterbury, England (2002-2005). Sister Ingrid stated that the most important event in her professional life was to receive the Franciscan Institute Medal in 2000, which was established in 1987 to honor scholars who have made outstanding contributions to Franciscan Studies in the areas of theology, spirituality, philosophy and history. After retiring in 2017, Sister Ingrid moved to Assisi Heights.
Throughout her life, Sister Ingrid published works of poetry, articles, and book reviews. Several books exist to which she contributed chapters and others she co-authored. She published two books: Clare of Assisi: A Biographical Study and Keeping the Memory Green: Mother Alfred and the Sisters of St. Francis.
Sister Ingrid is survived by her Franciscan Sisters with whom she shared life for sixty-five years, her brother Laurence (Joële) Peterson of San Diego, CA., and nieces and nephews. She was preceded in death by her parents and one brother, Gerald Peterson.
A Memorial Liturgy will be held at a later date.
Memorials are suggested to the Sisters of St. Francis, Office of Mission Advancement, Assisi Heights, 1001 14th St. NW, Rochester, MN 55901.