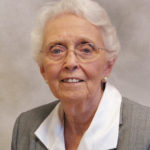 In Memory of Sister Ellen Whelan
Sister Ellen Whelan, Ph.D.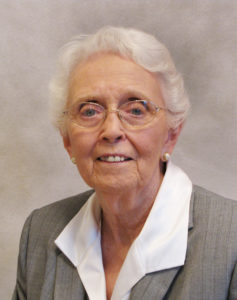 Sister Ellen Whelan, 91, a Franciscan Sister of the Congregation of Our Lady of Lourdes, Rochester, Minnesota, died at Assisi Heights, on September 9, 2021.
Ellen Ann Whelan was born August 21, 1930, in St. Paul, MN, to Joseph and Ellen (Horgan) Whelan. She entered the Sisters of St. Francis in 1961, received the name of Sister Mary Pascal, and made perpetual vows in 1966.
Sister Ellen was a motivated, lifelong learner excelling in academics. She completed a B. A. degree in history at the College of St. Teresa, Winona, MN, in 1965. She completed her studies for both M. A. and Ph.D. degrees in Modern European History at Syracuse University, Syracuse, NY, in 1968 and 1972. Further studies included Summer Institute for Women in College Administration at Bryn Mawr College, Bryn Mawr, PA, in 1977; Certificate in Hospital Administration at the School of Public Health, University of Minnesota, Minneapolis, MN, in 1983; Clinical Pastoral Education (CPE) at St. Joseph Hospital, Chicago, IL, in 1987; and Summer Institute of Religious Studies at Oxford University, England, in 1995.
From 1964-1966, Sister Ellen was a junior high teacher at Sacred Heart School in Waseca, MN. While studying at Syracuse University, she was also a part-time instructor—thus, beginning a long ministry in higher education. From 1971-1979, she was an assistant professor of history and then became the Director of Women's Lifelong Learning Program at the College of St. Teresa. From 1980-1986, Sister Ellen was the Coordinator of the Addictions Unit at Mayo Clinic and Sponsorship Administrator at St. Marys Hospital in Rochester, MN. She also served as a chaplain at St. Joseph Hospital in Chicago, Il, in 1987-1991. Throughout the 1990s, Sister Ellen was a dedicated leader within the Congregation at Assisi Heights and at St. Marys Hospital, where she became the Sponsorship Board Chair and Executive Director. In 1992, Sister Ellen served on a committee to establish the Rochester Community & Technical College's LIFE Program (Learning Is ForEver.)
From 1998-2018, Sister Ellen began her ministry as an author of historical books and her publications include: The Sisters Story, The Sisters Story Part Two, and co-authored The Little Book of Mayo Clinic Values. She also provided advisory consultation to Ken Burns for the PBS documentary, "The Mayo Clinic: Faith, Hope, and Science," 2018, and to other Heritage films for Mayo Clinic. A quote from Sister Ellen culminates two decades of her diligent research, "I pay tribute to those Saint Marys Sisters whose lives of dedication continue to inspire."
Like many Franciscan Sisters before her, Sister Ellen was an inspirational leader who served on many boards within religious, academic, and civic organizations at local, state, and national levels. She was the recipient of the Rochester Foundation Fellowship for advance study; a member of the Rochester Charter Commission; recipient of the MN Association of Continuing Adult Education Individual Award for Creative Leadership, "Woman of the Year," from the Rochester Business and Professional Women; and Who's Who of American Women. She resided at Assisi for the last ten years of her life.
Survivors of Sister Ellen include her Franciscan Sisters, with whom she shared life for sixty years. She was preceded in death by her parents and one brother, Michael Whelan.
A private Funeral Liturgy will take place at Assisi Heights at 11:00 a.m. on September 16, 2021. Burial will be at Calvary Cemetery. To view the funeral via livestream: https://us02web.zoom.us/j/88260626666.
Memorials are suggested to the Sisters of St. Francis, Office of Mission Advancement, Assisi Heights, 1001 14th St. NW, Rochester, MN 55901.