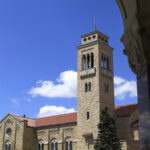 September 2021 News Update
Many messages of condolences have been received from Franciscan leaders and friends following the announcement of Sister Eleanor Granger's death. In an extensive mailing from the Franciscan Federation office, they included the obituary and a page summary of Eleanor's leadership accomplishments with the Franciscan Federation (attached). St. Mary's University of Minnesota's President, Fr. Burns, and the Board are having a Mass offered for her; and the CST Alumnae Board are including Sister Eleanor in the Teresan Memorial Program. May her life continue to inspire us to live our Franciscan vocation with genuine joy.
Sister Pat Keefe's letter to the editor was published in the Rochester Post Bulletin on Friday, September 3, 2021: https://www.postbulletin.com/opinion/columns/7169023-Patricia-Keefe-Sisters-are-doing-their-part-to-fight-climate-change-you-can-too (If you are unable to access, a copy is attached.)
KIMT-TV posted a segment about the recent human trafficking arrests and interviewed Olmsted County Attorney Mark Ostrem, who gave the Sisters of Saint Francis much of the credit for raising awareness locally. To read the article, click on this link: https://www.kimt.com/content/news/After-major-investigation-leads-to-MN-IA-arrestslocal-leader-says-theres-more-to-be-done-on-human-trafficking-575191981.html
Did you watch the Paralympics? Sister Martha Mathew's niece, Susannah Scaroni, is competing. As of this writing, she won a gold medal in the women's 5000-meter T54 event and a bronze in the women's 800-meter T54 event at the 2020 Summer Paralympics held in Tokyo, Japan, August 24-September 5, 2021.
50 by 50+ – Sister Bernadine Jax had the opportunity to take a class in creating a 12 inch Glass Mandala on August 21-22, at the Rochester Art Center. Teacher and artist, Debra D'Souza, received a grant to teach 50 persons over 50+, each making an original mandala of colored glass. All 50 pieces will be exhibited at 125 Live and the Rochester Art Center until January 31, 2022.