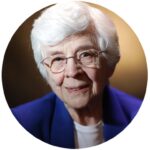 In Memory of Sister Agnes Malone
Sister Agnes Malone, OSF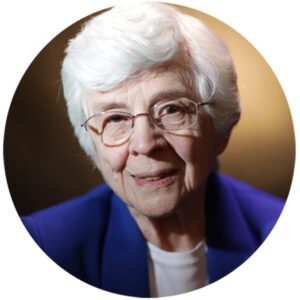 Sister Agnes Malone, 94, a Franciscan Sister of the Congregation of Our Lady of Lourdes, Rochester, Minnesota, died at Assisi Heights on June 13, 2023.
Sister Agnes was born on July 1, 1928, in Portsmouth, Ohio, to Earl and Ethel (Bayless) Malone. She entered the Sisters of St. Francis in 1945, received the name of Sister Agnes ll, and made perpetual vows in 1951. She received her bachelor's degree in English from the College of Saint Teresa, Winona, Minnesota, in 1958.
Sister Agnes served as a primary and secondary elementary school teacher, from 1948-1966, in many locations, including St. Priscilla School, Chicago, Illinois (1948-1954); St. Joseph School, Ironton, Ohio (1954-1955); St. Augustine School, Austin, Minnesota (1955-1957); Notre Dame High School, Portsmouth, Ohio (1958-1960); and Mary E. McCahil School, Lake City, Minnesota (1962-1966). During the summers of 1962-1965, she served as a post-secondary educator at St. Marys Hospital, Rochester, Minnesota before returning to secondary education at Wehrle High School, Columbus, Ohio, from 1966-1970. Sister Agnes also served as the Vocations Director at Assisi Heights, Rochester, Minnesota, from 1970-1973; and from 1973-1979 as their Research Team Director and data collector. From 1979-1984, she served as Canonical Assistant and research consultant in Washington D.C., as well as in St. Louis, Missouri, from 1984-1988, and in Chicago, Illinois, from 1988-1994. Sister Agnes served as a volunteer tutor in Chicago, Illinois, at the St. Joseph Seminary/Loyola Campus, from 1994-2008, before her retirement.
Survivors of Sister Agnes Malone include her Franciscan Sisters, with whom she shared life for 78 years; brother John Edward Malone; sister Alberta Jean Malone; and many nieces and nephews. She was preceded in death by her parents, two brothers, James Joseph and Charles Louis Malone, and a sister, Marjorie Ann Malone.
A private Resurrection Liturgy will be held at Assisi Heights at 11:00 a.m., Wednesday, July 5, 2023. The burial will take place at Calvary Cemetery. To view the funeral via livestream, go to: https://us02web.zoom.us/j/88367423126.
Suggested memorials are to the Sisters of St. Francis, Office of Mission Advancement, Assisi Heights, 1001 14th St. NW, Rochester, MN 55901.