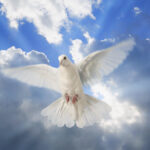 In Memory of Sister Neal Logan
Sister Neal Logan, OSF
Sister Neal Logan 98, a Franciscan Sister of the Congregation of Our Lady of Lourdes, Rochester, Minnesota, died at Assisi Heights on Monday, June 12, 2023.
She was born on December 11,1924, in Stewartville, Minnesota, and given the name of Kathleen. Kathleen was a graduate of St. Margaret's School of Nursing in Kansas City Kansas, in 1958. She was registered as a nurse in Kansas, Minnesota, Ohio, and California. She held positions in three of those states. In 1952, she joined the Sisters of Saint Francis, Rochester, Minnesota, and was given the name Sister Neal.
Survivors of Sister Neal (Kathleen) Logan include her Franciscan Sisters, with whom she shared life for 71 years, and many nieces and nephews.
She was preceded in death by her parents Charles and Nora (Daly) Logan; brother John Logan; and five sisters Mary, Irene, Pauline, Margaret, Alicia, and Charlotte.
A private Resurrection Liturgy will be held at Assisi Heights at 11:00 a.m., Thursday, June 29, 2023. The burial will take place at Calvary Cemetery. To view the funeral via livestream, go to: https://us02web.zoom.us/j/88367423126.
Suggested memorials are to the Sisters of St. Francis, Office of Mission Advancement, Assisi Heights, 1001 14th St. NW, Rochester, MN 55901.