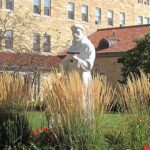 Tours, Events, Meetings Tentatively Suspended – Mass for Sisters Only
According to the Olmsted County Department of Health, one case of the Coronavirus has been reported in Olmsted County as of Wednesday afternoon, March 11.
Due to this reported case, as a precaution and out of respect for the residents and staff at Assisi Heights, we are suspending all Tours of Assisi Heights, events hosted through the Spirituality Center, and large group meetings until further notice.  In addition, we are limiting attendance at our Liturgy in Lourdes Chapel to our Sisters in the Congregation.
Thank you for your understanding.  We will send an update when the situation changes.
Sister Ramona Miller, Congregational Minister