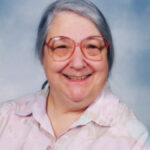 In Memory of Sister Julia Tomsche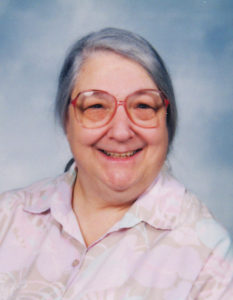 Sister Julia Tomsche (formerly known as Sister Dolorita), 86, a Franciscan Sister of the Congregation of Our Lady of Lourdes, Rochester, Minnesota, died at Assisi Heights on March, 14, 2020.
Julia was born January 31, 1934, in Minneapolis, Minnesota, to Joseph and Rosalia (Wilwerding) Tomsche. She entered the Sisters of St. Francis in 1954, and made perpetual vows in 1960.  In 1961, she completed training to be a Licensed Practical Nurse (LPN) at Saint Marys Hospital.
Sister Julia served as an LPN for fourteen years at various places in Minnesota: St. James Nursing Home, St. James; St. Marys Hospital, Rochester; St. Anne Hospice, Winona; Sacred Heart Hospice, Austin; and Assisi Heights, Rochester.  She also worked for two years as an LPN at St. Francis Convalescent Home in Denver, Colorado.  Following further studies, Sister Julia worked seven years as a dental assistant in Rochester. In 1984, Sister Julia moved to Assisi Heights, where she worked as a Health Care aide for fifteen years.  Later, she assisted in various ministries at Assisi Heights.
Sister Julia is survived by her Franciscan Sisters with whom she shared life for sixty-six years, her brother Joseph Tomsche of Saint Paul, Minnesota, and several nieces and nephews.  She was preceded in death by her parents, one brother, Francis, and two sisters: Gen Cunningham and Teresa Mancuso.
A Memorial Liturgy will be held at a later date.
Memorials are suggested to the Sisters of St. Francis, Office of Mission Advancement, Assisi Heights, 1001 14th St. NW, Rochester, MN  55901.