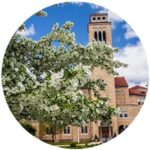 September 2018 News Update
Sister Dawn Nothwehr was privileged to be among 100 Catholic ethicists from the USA to be invited the third international conference of Catholic Theological Ethics in the World Church (CTEWC), held in Sarajevo, Bosnia-Herzegovina, July 25-30, 2018. The theme of this global conference was: "A Critical Time for Bridge-Building: Catholic Theological Ethics Today." (See the website: http://www.catholicethics.com/)." Sister Dawn delivered a paper at this conference, "Human Dignity within the Context of Integral Ecology: A Descriptive and Normative Moral Criterion."
Thirty Years Anniversary of Grand Valley Catholic Outreach – This past summer Sister Ramona Miller had occasion to visit the Grand Valley Catholic Outreach in Grand Junction, Colorado and was delightfully surprised to observe a plaque in their Board Room commemorating Sister Janel Crumb as the Executive Director 1988-89, the first year of its incorporation: "In appreciation Grand Valley Catholic Outreach recognizes Janel Crumb OSF, Executive Director 1988-89 for her compassionate service to the poor of Mesa County." Another plaque honored Sister LaDonna Maier's "loving service to the poor of Grand Junction," 1983-1988. Thirty years ago, the four founding parishes incorporated a social outreach program, under the auspices of the Diocese of Pueblo, which matured from its simple beginnings of offering food and clothing to current programs including a Day Center, supportive housing, and financial assistance programs. The Day Center serves the homeless by offering them a place for showers, phone, laundry, coffee, medical services, and companionship. The first outreach actions that gelled into this multi-purpose agency were begun in 1973 by our Sisters Marguerite Chavez and Claudine Daly who prepared sandwiches and handed them out from their back door to the poor. Twenty-two Sisters lived and ministered in Grand Junction over the years leading up to the incorporation. The simple services begun by our Sisters are like mustard seeds that have produced a sturdy shelter for the poor and marginalized of that area.
August 21st marked the 135th anniversary of the Rochester tornado. Doug Hanson, a certified music practitioner from Michigan who uses music therapy to promote peacefulness and well-being, and a direct descendant of a Nels Hanson, a young father who died from injuries in the tornado, offered his music and commentary over the noon hour on August 21, accompanied by Sister Tierney Trueman to place Doug's family experience into historical and institutional context.
Sister Tierney Trueman was interviewed by KTTC-TV for the Around Town weekend segment for September 8 & 9, about the Sisters' impact on the Mayo Clinic, as noted in the Ken Burns' documentary, The Mayo Clinic: Faith – Hope – Science. This documentary will be shown September 25 & 26 on PBS. Check your local listings for times.
Featured in the Rochester Post Bulletin:

– A Letter to the Editor was published from Sister Ruth Snyder on behalf of the Franciscans International Earth Cluster Group on August 23, 2018, under the headline "Profit-making at private prisons is a violation of Christian principles."

– Sister Marlys Jax was interviewed about AHSC's Enchanted Garden program for young girls in an article on August 7, 2018, titled: "Charm school covers table settings to social media."

Sister Shirley Schmitz, CST Archivist, recently received a letter from Enrique Gamez on behalf of the Society for Women in Physics at the University of Michigan, Ann Arbor, recognizing Sister Roswitha Schauls and other women in Physics with posters to be hung in the Physics Department. She will be featured on a "Sister-Doctors" poster to commemorate Sisters who came to the University for their doctoral research. Sister Roswitha received her master's degree in Physics in 1930 and her Doctorate in 1940, both from the University of Michigan, Ann Arbor. The Society also hopes that the posters will be an inspiration to the new generation of students at the University. A Rochester Franciscan, Sister Roswitha taught at the College of St. Teresa from 1930-1977.
Sisters Patricia Beck and Francine Balster were honored at Mass on Sunday, August 5, 2018, by the parishioners of St. Augustine Parish and St. Edward Parish in Austin, to celebrate the conclusion of their ministry. The celebration continued at a brunch in St. Ed's parish hall. A plaque acknowledging their ministry will be hung in all three Austin parish churches. Sisters Pat and Francine were well-known and loved for their pastoral ministry to the senior citizens. They served in that ministry for a total of fifty-three years, continuing the presence of Rochester Franciscans in Austin since 1909.