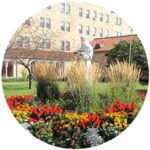 August 2018 News Update
Sister Ramona Miller was invited to be a keynote speaker at the annual meeting of, the Society of St. Vincent de Paul, North Central Region (North Dakota, South Dakota, Minnesota, Wisconsin, Northern Illinois and the Upper Peninsula of Michigan) on June 21-23, 2018, at the Kahler Grand Hotel in Rochester, MN. Cojourner Marty Cormack is the District Council president of the Society of St. Vincent de Paul in Rochester, Owatonna and Waseca, serving as host of this event. Here is a link to a video recording of her presentation.
Sister Mary Kay Mahowald was featured in the June 28, 2018, article in the New Yorker magazine.
Sister Katarina Schuth received an Honorary Doctorate in Theology from Catholic Theological Union (CTU) in Chicago, IL in May, 2018. Sister Katarina has been an educator for 40 years – 27 of those at the University of St. Thomas where she taught classes in Pastoral Ministry, World Religion, and American Religion. Sister Katarina's primary research interests are in theological education; preparation of Church leaders for ministry; parish life; and the relationship between the Church and American culture. She is recognized nationally and internationally as an expert on seminary education.
On June 30, Rochester Franciscan Sisters and Cojourners participated in a "Keep Families Together" Protest at the Peace Plaza in downtown Rochester. Later that afternoon, the Justice & Peace Network gathered to talk about our future as a Rochester Franciscan Community organization. Public presence was mentioned as one thing we want to continue to do in the future. As hot as it was at the Peace Plaza, we Rochester Franciscans were present and we made our voices heard. This photo of a group of Rochester Franciscans was taken by Sister Betty Kenny.