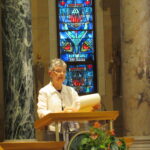 Proclamation of Conservation Easement
On the afternoon of July 18, 2019, Sister Ramona Miller, Congregational Minister of the Sisters of Saint Francis, made a formal proclamation that a Conservation Easement has been filed at the Olmsted County Government Offices to preserve about 72 acres on the Assisi Heights property. This proclamation took place at a special prayer service for the Sisters and Cojourners, who arrived for a summer gathering over the weekend.
The Academy of Our Lady of Lourdes, the corporate title for the Congregation of the Sisters of Saint Francis, acknowledges that the grounds of the Academy property to the south and to the west of the Motherhouse have been maintained for more than sixty years in a green and natural condition, providing and maintaining a largely unobstructed view of the Motherhouse complex from the south and the west, which is referred to as the "Green Space." The Green Space has long been a home for deer, wild turkeys, and numerous other animals and birds.
Care for all of God's creation has always been a Franciscan value. As Pope Francis noted in his encyclical, Laudato Si': On Care for Our Common Home (May 24, 2015), "Saint Francis, faithful to Scripture, invites us to see nature as a magnificent book in which God speaks to us, and grants us a glimpse of his infinite beauty and goodness." Since constructing the Motherhouse in 1955, the Sisters have always maintained the natural condition of the hillside slopes and desire that the Green Space be maintained and preserved as an example of the Franciscan care for nature.
The Sisters of Saint Francis believe that the Motherhouse, Chapel, and the Green Space of Assisi Heights are immediately recognizable as an architectural masterpiece and an enduring symbol of the history and faith of the Sisters. It is their intent to retain and protect the natural, scenic, and open-space values represented by the buildings and nature on this property, and to preserve the historical, architectural, and cultural aspects inherent in these elements, which will serve as lasting reminders of the many significant spiritual, charitable, and cultural contributions made by the Sisters to Rochester and the greater community.