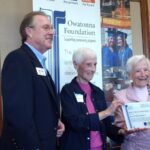 October 2019 News Update
Global Sisters Report recently published the latest issue of The Life: Sisters are experts in bringing people together, featuring Sister Dawn Nothwehr.
Choral Arts Ensemble is hosting a concert to honor the lives and legacy of the Sisters of Saint Francis on October 26 & 27 at Lourdes Chapel, Assisi Heights. For more information: www.ChoralArtsEnsemble.org. Recent publicity includes: https://www.youtube.com/watch?v=6wsF29eIwTc
https://kttc.com/things-to-do/2019/10/09/around-town-choral-arts-ensembles-in-giving-we-receive/
Sister Edith and Cojourner Jean Zamboni were recipients of the "Spirit of the Community Award" presented by the Owatonna Foundation during their annual Legacy Luncheon on October 9 in Owatonna, MN. The criteria used by the foundation for selecting the annual recipient(s) of this award include: having an acknowledged philanthropy; being a resident of Owatonna for 15 or more years; being a civic-minded and active citizen(s); and being known for generous service in Owatonna. Both Edith and Jean said they were humbled to be honored, but according to the program shared at the luncheon, "those that know them would say that they are humbled and blessed to know these two vivacious, selfless and generous souls that have graced Owatonna for almost a century with their wit, enthusiasm, and love of this community."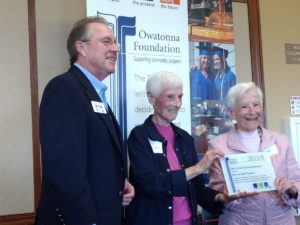 Sister Edith and Cojourner Jean accepting the award!
To add to this recognition, it is important to note that the "Zamboni Twins" served as marshalls of the band festival held in Owatonna in June of this year. Edith and Jean Zamboni were majorettes in the Owatonna Senior High School Marching Band in the early 1940s. Fun fact: Because of their petite size, the twins had to have specially made uniforms until they grew into the traditional uniforms worn by the rest of the group!