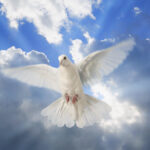 In the Spirit of Peace and Understanding
Merciful God, I pray for the
discernment to recognize injustice
when I witness it, and the strength to
speak out and take action against it.
Help me to foster unity and
encourage a spirit of peace in
everyone I encounter.
www.100daysofprayer.net
January 7, 2021 – Statement to Unite our Country
The leadership of the Rochester Franciscans, along with the 1300 members of the Leadership Conference of Women Religious (LCWR), joins with the world in praying for peace after witnessing the violence and lawlessness yesterday in our nation's capital. We are deeply concerned about the state of our country and the future of our democracy. Our hearts ached as we watched these despicable actions that threaten not only to destroy the seat of our government but to rend the bonds that unite us. We commend and thank the members of Congress who courageously continued their service to the nation last night even amid the chaos.
In our increasingly divided nation, we renew our commitment to the common good and pledge to take up the challenge to use our energy to repair our democracy and contribute to the work of building a more perfect union. We invite all people of goodwill to join us and we call on our elected leaders to point the way.
June 19, 2020 – Statement Endorsing the Supreme Court Ruling on DACA
The Sisters of St. Francis, Rochester, MN, endorse the position of the Leadership Conference of Women Religious―representing 80% of the women religious in the United States―and express our gratitude for the recent Supreme Court action which struck down the attempt to end Deferred Action for Childhood Arrivals (DACA).  The Court's ruling safeguards the right of 700,000 DACA recipients to live and work in the country that is their home.  This is an enormous victory toward protecting our colleagues, students, neighbors, and friends, in the Rochester area, and beyond, from the threat of deportation. 
DACA recipients have long contributed to our communities and our economy. They are teachers and engineers, specialists and essential workers of every kind.  Nearly 30,000 DACA recipients are among the healthcare workers nationwide combatting the outbreak of COVID-19; working to prevent the spread of the virus and to save the lives of those infected.
Recently, we publicly stated our desire to be a compassionate presence in our world, respecting all persons and supporting efforts to promote racial equality. Our commitment to the Gospel mandate to uphold the dignity of all people requires that we recommit ourselves to the work of dismantling the systems that oppress people of color and to advocate for the protection of immigrants.
As such, we call upon Congress to move expeditiously to pass legislation that will provide lasting stability for DACA recipients, those with Temporary Protected Status (TPS), and the Dreamers, their families, and our communities.  We ask that this legislation would exclude funding for detention, deportation, border militarization, or provisions that would limit opportunities for family unification.
June 1, 2020 – Statement on Societal Healing to End Racism
We Rochester Franciscans commit ourselves to be a compassionate presence for peace in the world. Believing that prayer and love can heal our society, we join with Mr. George Floyd's family, his neighborhood of south Minneapolis, and all those who grieve his death. 
As a society, we are challenged to be strong enough to change our attitudes and behavior, to end this social virus of racism among us. To do this, we must listen to and respond to the concerns of all racial groups; allowing them to define themselves as we strive to create a future cleansed of racism.