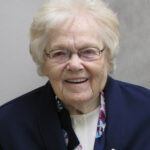 In Memory of Sister Margaret Clare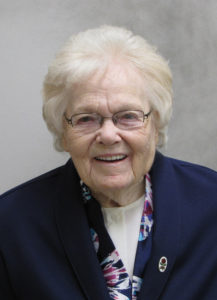 Sister Margaret Clare Style (Sister Alacoque), 101, a Franciscan Sister of the Congregation of Our Lady of Lourdes, Rochester, MN, died at Assisi Heights, November 19, 2019.
Margaret Clare Style, the third of twelve children, was born on June 5, 1918, in Fairmont, MN, to Glenmore and Mary Margaret (Tobin) Style. She entered the Sisters of St. Francis in 1937, and made perpetual vows in 1943. She received a bachelor's degree in History from the College of St. Teresa, Winona, in 1960 and a master's degree in Education and Administration from Winona State University, Winona, in 1967.
From 1940 to 1982, Sister Margaret Clare served as an elementary teacher at several Catholic schools in Minnesota: Rochester, Austin, Wilmont, Winona, Albert Lea, Golden Valley, and Glencoe. She also taught in Chicago, Illinois and Watertown, South Dakota.
Following her years of teaching, she served as a tutor at the College of St. Teresa (1982-1989) and as Archivist (1989-1991). In 1991, she moved to Assisi Heights, where she served for the next twenty years as the College of St. Teresa Archivist. She retired in 2011.
Sister Margaret Clare is survived by her Franciscan Sisters with whom she shared life for eighty-two years, and two sisters: Elizabeth Sullivan of Minneapolis and Catherine Olson of Brainerd, Minnesota and several nieces and nephews. She was preceded in death by her parents, eight brothers: Rodney, James, Robert, William, Charles, Gerald, Jerome and Vincent and one sister, Mary Finney.
A Morning Prayer with Sharing of Memories will be at 9:00 a.m. Monday, November 25, in the Chapel of Our Lady of Lourdes at Assisi Heights. Visitation follows up to the time of the Funeral Mass at 11:00 o'clock. Burial at Calvary Cemetery, Rochester.
Memorials are suggested to the Sisters of St. Francis, Office of Mission Advancement, Assisi Heights, 1001 14th St. NW, Rochester, MN 55901.