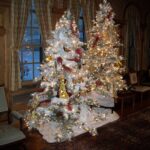 Christmas on the Hill Tours & Lourdes Chapel Schedules
Take a Tour!
Even though the 10th Annual "Christmas on the Hill: An Umbrian Celebration" has sold out, you will still be able to come view the beautiful holiday decorations!
To make your reservations for a tour, call 507-282-7441. There is no charge for the tour, however donations are welcomed and appreciated!
Monday, December 9, 2:00 pm
Tuesday, December 10, 2:00 pm
Thursday, December 12, 2:00 pm
Friday, December 13, 2:00 pm
Saturday, December 14, 2:00 pm
Tuesday, December 17, 2:00 pm and 6:30 pm
Friday, December 20, 2:00 pm and 6:30 pm
Saturday, December 21, 2:00 pm

Merry Christmas!

Thursday, December 26, 2:00 pm
Friday, December 27, 2:00 pm
Saturday, December 28, 2:00 pm
Monday, December 30, 2:00 pm
December Schedule:  Lourdes Chapel, Assisi Heights
ADVENT COMMUNAL RECONCILIATION SERVICE – Tuesday, December 3, 9:30 am
FEAST OF THE IMMACULATE CONCEPTION – Celebrated Monday, December 9, 11:00 am Mass

(Not a Holy Day of Obligation)

FOUNDRESS DAY – Wednesday, December 18, 4:00 pm Mass

(No 11:00 am Mass this day)

CHRISTMAS EVE – Tuesday, December 24

Prelude of Choir & Congregational Music, 6:00 pm
Mass at 6:30 pm

CHRISTMAS DAY

– Wednesday, December 25

Prelude of Choir & Congregational Music, 10:30 am
Mass at 11:00 am