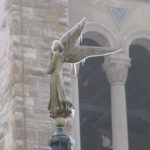 December 2021 News Update
Sisters Tierney Trueman and Ramona Miller (shown at left) met with Jeff Bolton on November 17, who is retiring as the Mayo CAO. They presented him with gifts from the Sisters at Saint Marys Hospital and the Sisters of the entire congregation as a token of appreciation for his significant contribution in advancing the collaboration that we have with Mayo Clinic.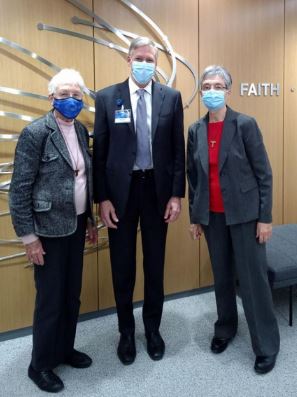 The Sisters of Saint Francis were featured in a story in the Rochester Post Bulletin for their Give to the Max Day campaign: https://www.postbulletin.com/community/nonprofits/7282828-Give-to-the-Max-Day-moves-even-those-made-of-stone.
This Stained Glass Mandala by Sister Bernadine Jax is one of 50 Mandalas created by persons 50 years of age or older with a grant. They were on display at 125 Live until November 30th, and from December 10 through the end of January 2022, they may be viewed at the Rochester Art Center. (Shown below are Sisters Claren Sellner and Bernadine Jax.)