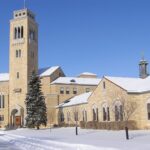 February 2020 News Update
On January 16th, 2020, The Sisters of Saint Francis received an Environmental Achievement Award.  On behalf of The Sisters of Saint Francis, Sister Ramona Miller accepted a copper wire sculpture of a tree on a shale slate. Below is her acceptance speech as well as a photo taken at the event with Sister Marlene Pinzka.
"Thank You, Jean Rynda and Angela Gupta, for your nominations. As the elected president of the Sisters of Saint Francis it is my honor and privilege to accept this Environmental Achievement award.
"I am personally humbled to accept this award for the work of an outstanding Environmental Advisory Committee that serves the Sisters at Assisi Heights by recommending "short and long range plans and practices for the care and preservation of the land, trees, and water at Assisi Heights based on the mission of the Rochester Franciscans, "reverence for creation." Sister Marlene Pinzka had been the chair of the committee for many years previous to her retirement this year. Our Assisi Heights administrator, Amy Thompson, is the current chair along with eleven others who bring passion and expertise for the care of the natural environment. The range of their activities includes eradicating buckthorn, eliminating garlic mustard, care for honey bees, restoring trees, planting annuals in the spring to beautify the landscape, developing a butterfly garden as well as strategically caring for the prairie area. Thank you for the acknowledgement you are giving these generous and dedicated persons who make this world better for their work of improving the environment.
"The Sisters are delighted to have accomplished the Conservation Easement of 72 acres of our property that will be protected in perpetuity. 800 years ago, a little man, Francis of Assisi, Italy, composed a Canticle of praise to God referred to by its Italian title Laudato Sì. The essence of the Canticle's expression of praise is to praise with Brother Sun, Sister Moon, Brother Fire, Sister Water, and Mother Earth. This Canticle serves as a moral guide for the Franciscan Sisters to live in a reverential stance with creation to praise God. We desire to participate in a worldwide effort toward sustainability of the planet. The Conservation Easement is our action to deepen awareness of and contribution to the physical, mental, and spiritual health of all by safeguarding fresh air, water, natural beauty, and ecological interaction with animals, plants, and trees.
"By accepting this award, we publicly appreciate your choice of honoring us, and we will continue to care for our property as a place of beauty for the city of Rochester and all who come here from around the world."