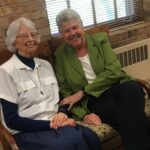 It's Catholic Sisters Week!
It's Catholic Sisters Week! March 8-14, 2021
In recognition of Catholic Sisters Week, we asked several CST* alumnae to share their memories of the Sisters serving at CST and the impact it made on their lives.
*The College of Saint Teresa (CST) was a Catholic women's college in Winona, Minnesota. Previously a women's seminary, it became a college in 1907 and was operated by the Sisters of Saint Francis of Rochester, Minnesota, until its closing in 1989.
Here are their stories. Each link will be available to view
on the date shown after 9 am Central
: