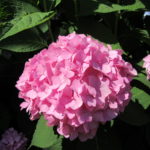 August 2022 News Update
Mayo Clinic Values Council Pays Tribute to Sister Tierney Trueman
Saint Marys Hospital Sponsorship Board was responsible for perpetuating the Franciscan values at Saint Marys Hospital, and safeguarding the principles and values on which the hospital was founded. Sister Tierney began her role in July 2012, as the Coordinator of the Sponsorship Board activities, with no hint of how her ten years at Mayo would extend the Franciscan foundational values to the entire Mayo enterprise of over 70,000 employees. The Sponsorship Board was dissolved when Saint Marys Hospital licensure changed in January 2014 from that of a Catholic hospital to being Mayo Clinic Hospital-Rochester, Saint Marys Campus. Mayo Clinic Values Council was established with Dr. Robert Brown, Medical Director, Linda Matti, his administrative partner, and Sister Tierney as Coordinator. Sister Tierney effectively led many initiatives to educate the Franciscan legacy that underlies the Mayo Clinic values. The PowerPoint presentation shown at the July 2022 Mayo Clinic Values Council meeting, gives tribute to Sister Tierney's ministry as she retires from Mayo Clinic to assume the role of Congregational Minister for the Sisters of Saint Francis.
Submitted by Sister Ramona Miller
Sister Tierney was also recognized in Mayo Clinic's HR News Blitz publication on June 17, 2022:
Sister Tierney Trueman
On behalf of Linda Matti, Administrator – Program in Professionalism and Values
Our colleague, Sister Tierney Trueman, Mayo Clinic Values Council Coordinator, was just elected to serve as the President and Congregational Minister for the Academy of Our Lady of Lourdes, in Rochester, Minnesota. This is an important leadership role for the Franciscan Sisters, and we congratulate Sister Tierney for her election to this role.
Our congratulations to Sister Tierney are somewhat bittersweet in that her election to this role means that she will need to step down and retire from her role as Values Council Coordinator as of July 15, 2022; a role she has held for the past 10 years. As you know, Sister Tierney is a truly remarkable colleague. She is a special person who exudes our Mayo Clinic Values, showing sincere and extraordinary dedication to Mayo Clinic, and to our Values. Her impact in these early years of the Values Council has been immeasurable, with a key role in virtually all MCVC activities, across all of Mayo Clinic.
Sister Bernadine Jax recently published a book, her first, titled "Going Around in Circles." This tells the story of her art ventures over 43 years. She has some copies of the book available for purchase. If interested, contact her at bjax1022@gmail.com.