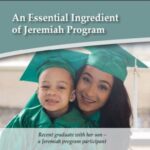 Sisters of Saint Francis Support the Jeremiah Program
From ABC-6 News: Sister Ramona Miller interview with Betsy Singer on 7/29/19 – "The Jeremiah Program started in the Twin Cities as a way to get single mothers out of poverty and into the better living situation. It has expanded since then and a groundbreaking was held on Monday to continue its mission.  A few people were at the expansion to give an insight on what makes this program what it is today."- Watch the video! 
To read more about support for this program turn to page 14 (16) in this issue of Interchange.