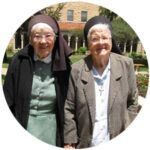 Remembering Sister Marga Ernster
Sister Marga Ernster, 89, a Franciscan Sister of the Congregation of Our Lady of Lourdes, Rochester, died at Assisi Heights Oct. 18, 2018.
Adeline Margaret Ernster was born Dec. 9, 1928, in Caledonia, to Julius and Felicitas "Flossie" (Schmitt) Ernster. She entered the Sisters of St. Francis in 1952 from Saint Peter Parish, Caledonia. Sister Marga made first vows in 1955 and perpetual vows in 1958. She received a Bachelor's Degree in Elementary Education from the College of St. Teresa, Winona in 1962.
Sister Marga served as an elementary teacher for 39 years at several Catholic schools: St. Peter School, North St. Paul, and in the Diocese of Winona: Queen of Angels, Austin, St. John, Rochester and Sacred Heart, Adams. From 1994-2008, she served as Computer Lab Supervisor at Crucifixion School, LaCrescent. She retired to Assisi Heights in 2008.
Sister Marga is survived by her Franciscan Sisters, with whom she shared life for 66 years. She was preceded in death by her parents; and a brother, Fr. Milo Ernster.
A Prayer Vigil with Sharing of Memories is scheduled for 4 p.m. Tuesday, Oct. 23, in the Chapel of Our Lady of Lourdes at Assisi Heights. The funeral Mass will be Wednesday, Oct. 24, at 11 a.m. in Lourdes Chapel. Visitation one hour prior. Burial at Calvary Cemetery, Rochester.
Memorials are suggested to the Sisters of St. Francis, Office of Mission Advancement, Assisi Heights, 1001 14th St. NW, Rochester, MN 55901.