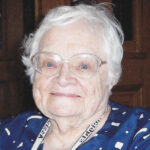 Remembering Sister Lorna Helter
Sister Lorna Helter, 102, a Franciscan Sister of the Congregation of Our Lady of Lourdes, Rochester, MN, died at Assisi Heights May 4, 2019.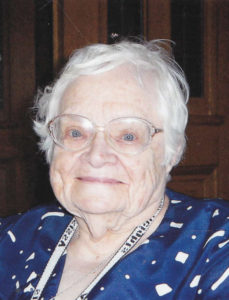 Mary Elizabeth Helter was born December 8, 1916, near Bergen, Minnesota, to John and Mary (Devlin) Helter. She entered the Sisters of St. Francis in 1935 from St. Francis Xavier Parish in Windom, Minnesota.  Sister Lorna made first vows in 1938 and perpetual vows in 1941.  She received a Bachelor of Fine Arts degree in 1944 from the University of Denver, Denver, Colorado.  In 1963, she received a Master of Fine Arts Degree from the University of Notre Dame in South Bend, Indiana.
Sister Lorna began her teaching career in 1938 with primary students at St. Mary School in Ellsworth, Minnesota, where she also was the organist for the high school choir.  Upon completion of her bachelor's degree, she returned to Rochester, Minnesota, where she taught second grade students at St. John's School (1944-1945) and seventh grade Art at Lourdes High School (1945-1950).  She taught Junior High students and High School Art at St. Thomas High School in Winona, Minnesota (1950-1952), taught Secondary Education, Art, Shop, Biology, Mechanical Drawing at Cotter High School (1952-1965) and at Wehrle High School, Columbus, Ohio (1965-1975).  Following retirement from teaching, Sister Lorna was a sales advisor at Cathedral Book Shop in Columbus, Ohio, beginning in 1975 until she returned to Assisi Heights in 2006.
Sister Lorna is survived by her Franciscan Sisters, with whom she shared life for eighty-three years, and three sisters: Margaret Anderson, Joyce Jaquith and Joanne Frohwitter, and her nieces and nephews.  She was preceded in death by her parents, brother Jack Helter, and sisters Mona Opitz and Catherine Helter.
An Evening Prayer Vigil will be held at 4:00 p.m. Tuesday, May 7, in the Chapel of Our Lady of Lourdes at Assisi Heights.  The Funeral Mass will be Wednesday, May 8, at 11:00 o'clock in Lourdes Chapel.  Visitation one hour prior. Burial will be at Calvary Cemetery, Rochester.
Memorials are suggested to the Sisters of St. Francis, Office of Mission Advancement, Assisi Heights, 1001 14th St. NW, Rochester, MN  55901.