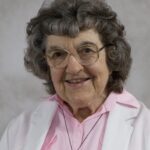 Remembering Sister Iria Miller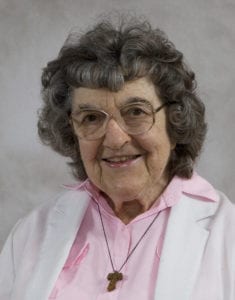 Sister Iria Miller, 94, a Franciscan Sister of the Congregation of Our Lady of Lourdes, Rochester, MN, died at Assisi Heights, Saturday, January 26, 2019.
Mary Catherine Miller was born June 1, 1924 in Waseca, Minnesota, to Peter and Edith (Stangler) Miller. She entered the Sisters of St. Francis in 1946 from Sacred Heart Parish, Waseca, Minnesota. Sister Iria made first vows in 1949 and perpetual vows in 1952. She received a Bachelor's Degree in Elementary Education from the College of St. Teresa, Winona, in 1961, a Master's Degree in Elementary School Administration from Mankato State University, Mankato, in 1968 and a Master's in Pastoral Studies from Loyola University of Chicago, Illinois, in 1979.
Sister Iria taught in several Catholic elementary schools in the Diocese of Winona: St. John and St. Francis, Rochester; Our Lady of Mount Carmel, Easton; St. John, Johnsburg; and St. Columba, Iona. She also taught at St. Priscilla's, Chicago and served as Principal at St. Peter, North St. Paul, and Holy Redeemer, Portsmouth, Ohio. On completing studies in Pastoral Ministry, Sister Iria served as Pastoral Minister at St. Theodore Parish, Albert Lea, Minnesota; St. James Parish, Forest City, Iowa; Holy Redeemer Church, Vanceburg, Kentucky and St. Pius X Parish, Glencoe, Minnesota. She also served as Director of Religious Education at Holy Redeemer Church in Evansville, Indiana. From 1995 – 1997 she worked as Receptionist and Senior Coordinator at United Neighborhood Centers in Madison, Wisconsin. She also was a volunteer receptionist at Tau Center, Winona, and at Integrative Therapies, Assisi Heights. Up to the time of her death, Sister Iria was actively involved in Justice, Peace and Nonviolence work.
Sister Iria is survived by her Franciscan Congregation with whom she shared life for seventy-two years, and several nieces and nephews. She was preceded in death by her parents, brothers Francis, Leo, Alvin, and Eugene Miller and a sister, Irene Zimmerman.
An Evening Prayer Vigil with Sharing of Memories will be at 4:00 p.m. Tuesday, January 29, in the Chapel of Our Lady of Lourdes at Assisi Heights. The Funeral Mass will be Wednesday, January 30 11:00 o'clock in Lourdes Chapel. Visitation one hour prior. Burial will be at Calvary Cemetery, Rochester.
Memorials are suggested to the Sisters of St. Francis, Office of Mission Advancement, Assisi Heights, 1001 14th St. NW, Suite 100 Rochester, MN 55901.