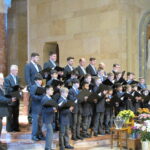 Palestrina Choir from Dublin, Ireland visits Assisi Heights
The Palestrina Choir performed in Lourdes Chapel at Assisi Heights on Friday morning, April 26, 2019. The Palestrina Choir started in the 1890's and became the resident choir of St. Mary's Pro-Cathedral in Dublin, Ireland, in 1902.Two years ago, they decided to come back to the United States, and wanted to go someplace they had not been before. They chose the Midwest mainly because of the large Irish communities. They wanted to reach out to Minneapolis/St. Paul, Milwaukee, Chicago and, of course, South Bend and the University of Notre Dame, to perform and connect with people who may not have had the chance to travel to Ireland and hear them sing in residence at the Pro-Cathedral in Dublin.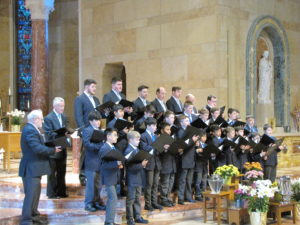 One of the choir chaperones used to live in the Rochester area. She was completing a fellowship at the Mayo Clinic many years ago, and upon completion, returned to Dublin.  She is very proud of her time at the Mayo Clinic. When she realized they would be coming to St. Paul for this tour, she specifically asked if the choir could make a stop in Rochester, share the story of the Mayo Clinic with the choir members, and find a place to sing for the community.
We were so blessed by their performance!
Here is the final song performed: https://vimeo.com/332745535