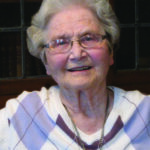 In Memory of Sister Virgana Kacmarcik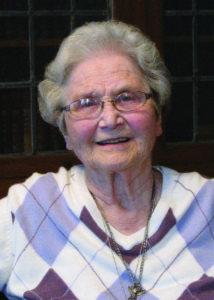 Sister Virgana Kacmarcik, 97, a Franciscan Sister of the Congregation of Our Lady of Lourdes, Rochester, Minnesota, died at Assisi Heights on May 4, 2021.
Angeline Victoria Kacmarcik was born January 26, 1924, in Saint Paul, Minnesota, to Frank and Victoria (Bieniek) Kacmarcik. She entered the Sisters of St. Francis in 1941, received the name of Sister Mary Virgana, and made perpetual vows in 1947. In 1959, she completed her studies for a Bachelor of Arts Degree in Art at the University of Denver, Denver, Colorado. In 1964, she completed a Master of Fine Arts Degree in Art at the University of Notre Dame, South Bend, Indiana. Further studies in 1968-69 included art history at the University of Chicago, Chicago, Illinois.
In 1944, Sister Virgana began her elementary art teaching career at Catholic Schools in Ohio, Illinois, South Dakota, and Minnesota. In 1965, she began teaching art education at the College of Saint Teresa, Winona, Minnesota where she remained as an assistant professor for 13 years.
In 1978-1988, Sister Virgana returned to North Saint Paul, Minnesota, to care for her aging parents. She worked as a sales assistant for 21 years at the Sears & Roebuck Store in Maplewood and, while residing in the northeast metro area, she gave pastoral care to many elderly residents in nursing homes. Sister Virgana retired in 2006 and returned to Assisi Heights to work in Art Restoration for nine years.
Sister Virgana was a talented artist who used her creative skills to foster the love of art among many people across generations. Her lifelong love of animals and nature was inspired by St. Francis and she often incorporated religious themes in her art.
Sister Virgana is survived by her Franciscan Sisters with whom she shared life for seventy-nine years; nieces, nephews, and cousins. She was preceded in death by her parents; one brother, Brother Frank Kacmarcik, OblSB; three sisters, Marianne Schanz, Betty Nachtsheim, and Virginia Freeman; and three brothers-in-law.
A private Funeral Liturgy will be held at Assisi Heights at 10:00 a.m. May 13, 2021, with burial at Saint Mary's Cemetery, North Saint Paul, MN.
Memorials are suggested to the Sisters of St. Francis, Office of Mission Advancement, Assisi Heights, 1001 14th St. NW, Rochester, MN 55901.
To view the funeral via livestream at 10 am on Thursday, May 13, click on this link:  https://us02web.zoom.us/j/84707869076 
Note: You must have an account with Zoom. Important to set this up on your computer IN ADVANCE if you have not used Zoom before: CLICK HERE to view a video for instructions. Select the video: "Join a Meeting." You need to first download the software application on your computer before entering the link listed above for the funeral. All persons have to do this the first time you use Zoom on that computer. After that, you only need to sign in with your email.