In Memory of Sister Marice Hughes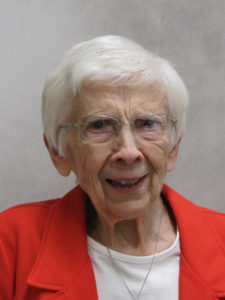 Sister Marice Hughes, 93, a Franciscan Sister of the Congregation of Our Lady of Lourdes, Rochester, MN, died at Assisi Heights, August 21, 2020.
Margaret Mary Hughes was born August 17, 1927, in Waseca, Minnesota, to William and Ida (Busch) Hughes. She entered the Sisters of St. Francis in 1947 and made perpetual vows in 1953. Professional studies included a Bachelor's Degree in Elementary Education and Latin from the College of St. Teresa, Winona, MN, in 1956, and a Master's Degree in Education from St. Mary's University, Winona, MN, in 1966.
Sister Marice taught twenty-one years in secondary education at St. Priscilla School in Chicago, IL; Holy Redeemer School, Portsmouth, OH; and at several Catholic schools in southern Minnesota: St. Theodore, Albert Lea; St. John Vianney, Fairmont; Cotter High School, Winona; and Sacred Heart School, Waseca. From 1971 to 1983, she served as Religious Education Coordinator at Sacred Heart Parish in Waseca. From 1983 to 1993 she provided care for her mother in Naperville, IL. When this service was no longer needed, she continued living in Naperville while serving as a Library Aide at Saints Peter and Paul School, Naperville.
In 2002, Sister Marice moved back to Assisi Heights where she served as an office assistant until 2013 when she retired and dedicated her remaining years to prayer ministry. Sister Marice is survived by her Franciscan Sisters, with whom she shared life for seventy-three years, one brother, James Hughes of Murrieta, California, and several nieces and nephews. She was preceded in death by her parents and one brother, John Hughes.
A Memorial Liturgy will be held at a later date.
Memorials are suggested to the Sisters of St. Francis, Office of Mission Advancement, Assisi Heights, 1001 14th St. NW, Rochester, MN 55901.