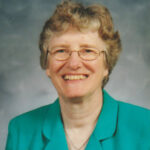 In Memory of Sister Eleanor Granger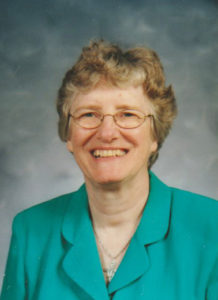 Sister Eleanor Granger             
Sister Eleanor Granger, 83, a Franciscan Sister of the Congregation of Our Lady of Lourdes, Rochester, Minnesota, died unexpectedly at Assisi Heights, on August 17, 2021.
Eleanor Ann Granger was born April 16, 1938, in Lanesboro, MN, to Benjamin and Eleanor Frances (Horihan) Granger. She entered the Sisters of St. Francis in 1956, received the name of Sister Mary Bennett, and made perpetual vows in 1962.
Sister Eleanor excelled in academics. She completed her studies for a B.S. degree in Education at the College of St. Teresa, Winona, MN, in 1962, and an M.S. degree in Educational Administration at Mankato State University, Mankato, MN, in 1970. Further studies included Specialist in Elementary School Administration from the College of St. Thomas, St. Paul, MN, an Honorary Ph.D. in Leadership at St. Mary's University, Winona, MN, in 1994, and certification in Franciscan Studies at Washington Theological Union, Washington, D.C., in 1995.
In 1962-1968, Sister Eleanor began teaching at parochial schools in Glencoe, MN, Chicago, IL, and Fulda, MN. From 1968-1982, she was the principal of St. Gabriel School in Fulda and St. Mary's School in Winona, MN. From 1975-1977, she was also the director of the Office of Pastoral Planning in Winona.
Sister Eleanor was an exemplary, gregarious leader who served on many boards and rose from within religious, civic, and community organizations to regional and national prominence. She received the Teresa of Avila Award from the College of St. Teresa in 1988. She was elected to 12 years of leadership within her Franciscan Congregation in Rochester, MN, as Councilor, 1982-1988, and served as President, 1988-1994. Sister Eleanor moved to Washington, D.C., for 12 years and became the Executive Director of the Franciscan Federation, 1995-2001, and Associate Director of the Leadership Conference of Women Religious (LCWR), 2001-2007. She returned to Rochester, in 2007, and became the Director of Development for the Sisters of St. Francis until 2013. She was awarded a special tribute at the Annual Federation Conference in 2018 for her diligent service as the Franciscan Federation flourished across the nation under her guidance. She retired to Assisi Heights in 2018.
Sister Eleanor is survived by her Franciscan Sisters with whom she shared life for sixty-two years; one brother, Robert Granger, and his wife, Cat; one sister, Carole Wrubel; one brother-in-law, Richard Ogren; a niece, five nephews, and great-nieces and nephews; and 18 cousins. She was preceded in death by her parents and one brother, James Granger, and one sister, Patricia Ogren.
A private Funeral Liturgy will be held at Assisi Heights at 11:00 a.m., August 24, 2021. Burial will be at Calvary Cemetery. To view the funeral via Livestream at 11:00 a.m. on August 24, please click on this link: https://us02web.zoom.us/j/81572637477.
Memorials are suggested to the Sisters of St. Francis, Office of Mission Advancement, Assisi Heights, 1001 14th St. NW, Rochester, MN 55901.