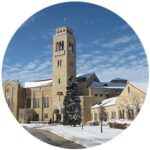 December 2018 News Update
Sister Ruth Snyder shared a short statement on Immigration as part of the November edition of the Diocese of Winona-Rochester Social Concerns newsletter:
The Isaiah Project has guided us in all aspects regarding sanctuary. Two churches in Rochester have declared themselves Sanctuary Churches: Peace United Church of Christ and First Unitarian Universalist Church. The Sisters of St. Francis are a sanctuary support group. As such we offer support through prayer, accompanying those who might seek sanctuary, and with material resources for the sanctuary spaces.

As part of the Interfaith Coalition for Immigrants Rights, an interfaith prayer service for immigrants was held at Assisi Heights. The Quakers and Common Ground Church also offer sanctuary support. St. Francis of Assisi Church is considering being a sanctuary support church.
Sister Joan Brown's article, "In global climate, see the forest and trees" was published in the November 13, 2018, issue of Global Sisters Report. To read the article, please click here.
Sister Mary Eliot Crowley was featured in the article, "No place safe from sexual exploitation in the November 26, 2018 issue of Bluff County Reader. Sister Mary Eliot made a presentation at the St. Ignatius Catholic Church in Spring Valley, Minnesota.
The article "The sick and the poor were Sister Antoine's 'constant thought'" appeared in the November 28, 2018 issue of the Rochester Post Bulletin.
Dr. John Noseworthy met with the Academy Board for the last time on November 28, 2018 and as a token of appreciation for his collaborative leadership, we presented him with a 10″ hand carved wood statue from Assisi, Italy, of Francis and the lamb.