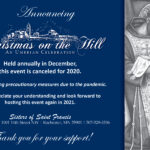 Christmas on the Hill Update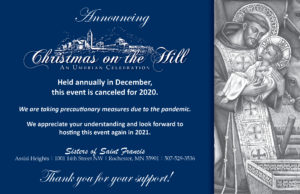 We regret to inform you that we are canceling the Christmas on the Hill event  for 2020.
We appreciate your support of this event over the past 10 years.
It was a difficult decision for us, but we believe this is in the best interests of our resident Sisters and the attendees since we do not know when the situation will change concerning the pandemic and the limitations placed on large event gatherings.
We will miss celebrating the holiday season with you.
In the meantime, if you have any questions, please feel free to contact June Howard, Director of Mission Advancement at 507-529-3526.
May you have a blessed holiday season.  We look forward to seeing you in 2021!