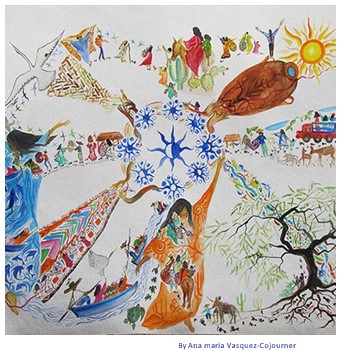 Happy Earth Day!
Happy Earth Day!   April 22, 2023 |  Prayer Service
OPENING PRAYER  We Hold the Earth
We hold brothers and sisters who suffer from storms and droughts  intensified by climate change.
We hold all species that suffer.
We hold world leaders delegated to make decisions for life.
We pray that the web of life may be mended through courageous  actions to limit carbon emissions.
We pray for right actions for adaptation and mitigation to help our  already suffering earth community.
We pray that love and wisdom might inspire my actions and our  actions as communities. . .
so that we may, with integrity, look into the eyes of brothers and  sisters and all beings and truthfully say, we are doing our part to  care for them and the future of the children.
May love transform us and our world with new steps toward life.
https://interfaithpowerandlight.org/faithclimateactionweek/prayers-and-climate-  blessings/#:~:text=We%20hold%20brothers%20and%20sisters,actions%20to%20limit%20carbon%20emissions
SONG For the beauty of the earth, for the beauty of the skies, for  the love which from our birth, over and around us lies.
READING Laudato Si
We are faced not with two separate crises, one environmental and  the other social, but rather with one complex crisis which is both  social and environmental. Strategies for a solution demand an  integrated approach to combating poverty, restoring dignity to the  excluded, and at the same time protecting nature. (#139)
In fact, the deterioration of the environment and of society affects  the most vulnerable people on the planet… The impact of present  imbalances is also seen in the premature death of many of the  poor. (#48)
REFLECTION How can I make life "more abundant" for all?
BLESSING OF THE HERBS
Blessed are you, Holy Creator, for calling forth stewards of  creation throughout time, and especially now, when climate  change and the future life of Earth is in our hands.
All: Bless us  to be stewards of your Creation
Blessed are you, Holy Healer, for giving us herbs of spring: basil,  dill, parsley, cilantro, rosemary, thyme, oregano, and so many  others. They beautify Earth, flavor foods, have medicinal  properties, and nourish the body and soul.
All: Bless us to be healers of your Creation.
Blessed are you, Holy Gardener, for bringing forth fruit from Earth.  As we delight in the smell of these herbs (rub the leaves!) we  praise you for the abundance of gifts that come from Earth.
All: Bless us to be as generous as Earth.
Adapted from Stirring Waters feminist liturgies for justice. Diann L Neu Liturgical Press 2020. Used with permission.
CLOSING PRAYER
God of grace, creator of a world of plenty,
The heavens declare your glory and the earth your generosity.
In love, you created us and in your likeness you made us  to be partners in creation.
In greed, we have turned away and have marred  your image in us to fashion a fragmented world.
Renew in us your vision of wholeness, that the rich may restore  wealth to the poor and the poor share blessings with the rich.
Revive in us a passion for justice, that the tyranny of profit be  quelled and whispers of freedom find voice.
Refresh in us our sense of calling, that we may follow the Christ  in serving others and live simply with those who simply live. Amen.